Product Information
The modern chimney hood from Baumatic will be a versatile and stylish addition to your kitchen and will extract unwanted cooking grease, steam and odours through either ducted out or recirculated extraction. With 3 speeds and an extraction rate of 500 m³/hr, this wall-mounted extractor is ideal for small to medium sized kitchens.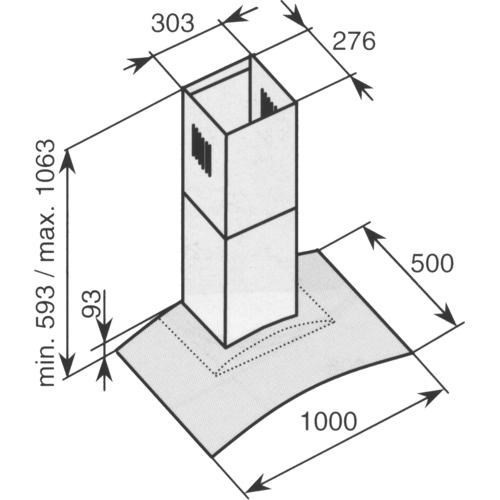 Modern design with a traditional twist
This chimney hood has chic wave-like glass and a stainless steel design that gives a traditionally shaped cooker hood a modern make-over that will uplift your kitchen but suitably complement existing kitchen appliances.
Fitting the Baumatic chimney hood
Chimney hoods are designed to be wall-mounted, so ensure you have room between cupboard units for the cooker hood (the cabinets must not overhang the hob). Measure the dimensions against your space before ordering:
Overall dimensions: (H) 593/1063mm x (W) 1000mm x (D) 500mm
Dimensions of the chimney section: 308mm x 275mm
The chimney section is telescopic so that you can adjust the hood to be a suitable distance above your hob. Do not fit your cooker hood less than 700mm above your cooker top or hob.
Suitable for ducted out or recirculated extraction
To make this chimney suitable for different types of kitchens, you have the choice to install the chimney hood to run under ducting or recirculated extraction. If you are choosing to recirculate, you'll need a charcoal filter and if you're ducting out you'll need a ducting kit.
Extraction rate
The tangential motor in the Baumatic BT10.3GL has an extraction rate of 500 m³/hr that's ideal for kitchens up to 62 cubic metres. Visit our Cooker Hood Buying Guide to figure the ideal extraction rate for your kitchen if you're unsure.
3 speeds
Although this cooker hood reaches 500 m³/hr, you can adjust the power through 3 speed controls. Not only is this ideal to control the extraction to suit the level of cooking steams and odours emitted, but it also helps you regulate energy use for the more eco-conscious cookers.
The average noise level for this cooker hood is between 59-66 decibels, depending on what speed it's on.
Push button controls
Offering a traditional and safe means of operation, the electronic push button controls are clear and easy to use and understand with little red lights indicating which button is currently in use.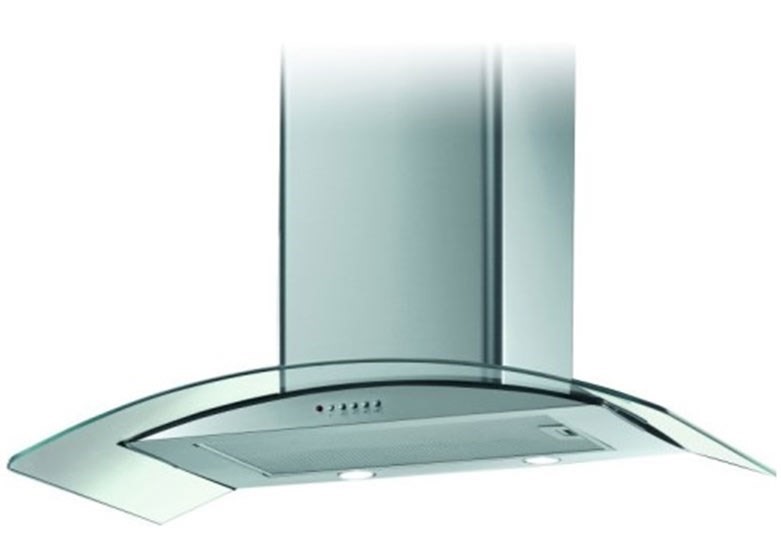 Energy-efficient lighting
Two 40W halogen light bulbs are seamlessly integrated into the overall design of the hood. Clearly illuminating your hob for easier cooking, halogen bulbs are more energy efficient, being much long-lasting than incandescent bulbs.
Grease filters
The Baumatic cooker hood comes with 2 aluminium grease filters on the underside of the hood to catch airborne grease. They can be easily removed and washed but they are NOT SUITABLE for a dishwasher.
Baumatic guarantee their appliances for 5 years on the parts and 2 years on the labour. Please ensure you register your appliance to receive this.
Accessories:
Optional Accessories:
S1 filter for recirculation
DK5 1 metre ducting kit, 125mm diameter
DK10 3 metre ducting kit, 125mm diameter
100cm wide chimney cooker hood
500 m³/hr extraction rate
3 speeds
Push button controls
Energy efficient lighting
Please note: This chimney hood is designed to be fixed to a wall.